Three Times Doctors and Detectives in TV Dramas Exemplified Trauma-Informed Practice Well
Written by Dr. Apryl Pooley
At MiVAN, we're always looking for creative ways to connect Michigan advocates to resources that will strengthen advocacy services across the state. Like many of you, we love a good TV drama and take notice when crime victims are portrayed in the media. We'd like to take a moment to think about ways crime victim portrayals on TV can be connected to MiVAN resources that you can use in your advocacy practice! The three examples below show trauma-informed practice in action, help humanize survivors, and raise awareness about the realities of sexual assault and crime victim rights in ways that we can link to MiVAN training resources. While neither MiVAN nor our funder, MDHHS Division of Victim Services, endorse or approve any particular show, we do encourage you to start looking for other connections like these in whatever content you view!
Check out some of the ones we found in the clips below: 
Grey's Anatomy (Netflix) Season 15 Episode 19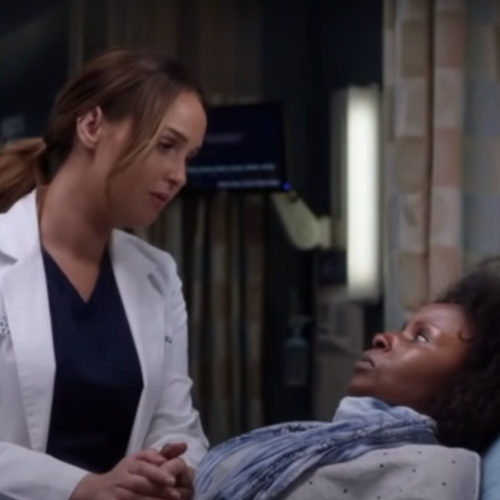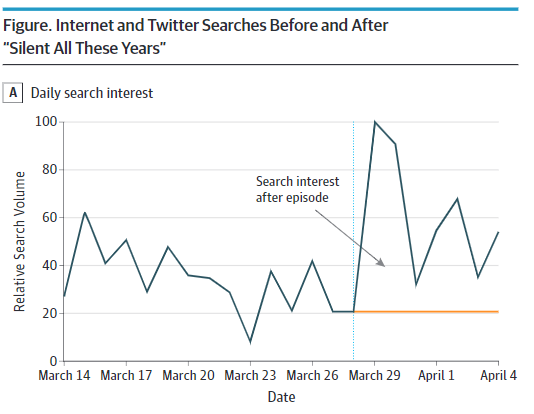 As we learned in MiVAN's animated training "Becoming a Trauma-Informed Advocate," realizing the widespread impact of trauma, recognizing the signs of trauma, and responding accordingly to resist re-traumatizing survivors are the 4 key components that define trauma-informed care. In this episode, Dr. Jo does this when she first notices her patient, Abby, react with fear (clip) when a male doctor approaches. Even before Abby discloses her sexual assault, Dr. Jo realizes the possibility of Abby's injuries being trauma-related, recognizes that Abby is having a trauma reaction, and responds by asking the male doctor to leave the room. Dr. Jo validated the fear and pain that Abby felt and promoted her safety by providing privacy, while also building the foundations of trustworthiness—two of the six principles of trauma-informed practice outlined in MiVAN's 6 Principles of Trauma-Informed Care poster. 
Two other trauma-informed principles of collaboration and empowerment were illustrated when the doctors administered the sexual assault kit (clip) and honored Abby's autonomy by empowering her to make her own choices, restored her agency by obtaining her consent for every part of the procedure, and reiterated to Abby that she can say 'no' at any time and they will stop the exam. The ensuing montage shows a series of moments where the doctor asks, "Are you ready?" and Abby responds, "Yes." Each time, Abby looks and sounds more sure, more empowered. She's been given a chance to agree to what's happening to her body. It is so important to recognize the loss of agency that comes with sexual assault, and to practice in a way that restores a survivor's agency, safety, and worth. It's not just about treating the physical wounds but the psychological and emotional ones too. 
When Dr. Jo explains the sexual assault kit (clip) to Abby, she explains what the kit would and wouldn't do, that she has the right to have the kit done without disclosing it to anyone, and that she doesn't have to make any kind of report now but could choose this option later. This interaction raises awareness about crime victim rights and demonstrates why it is so important to ensure crime victims are aware of their rights to have all the information they need to make informed decisions. Detailed information like this about sexual assault survivor rights and procedures are outlined in MiVAN's Sexual Assault Victim Access to Sexual Assault Medical Forensic Examination training. 
In these clips, we also noticed the excellent nonverbal communication skills the doctors display as they make eye contact with Abby, keep open body language, actively listen, and avoid getting distracted by other things. This key advocacy skill of nonverbal communication, and other skills, are outlined in MiAVN's Building Confidence in Your Advocacy: Confidentiality and Effective Communication training. 
Sex Education (Netflix) Season 3 Episode 3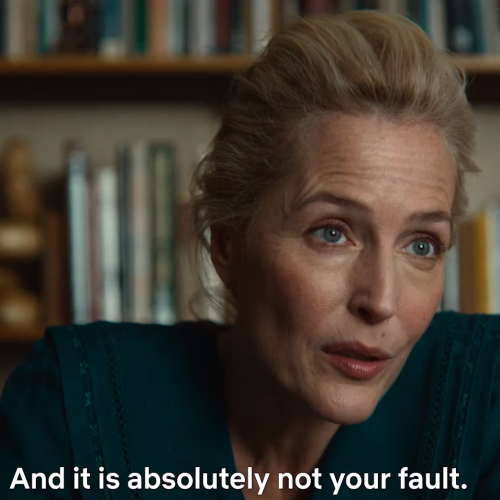 In this episode of Sex Education, a sexual assault occurring on public transportation is depicted. Aimee, the teen survivor, seeks help from a therapist, Jean (clip), who responded to Aimee's experience compassionately by saying, "What that man did you to you on the bus has nothing to do with your smile or your personality and is only about him. And it is absolutely not your fault." 
While Jean doesn't appear to have a warm and engaging personality, her response is a good example of how to use trauma-informed skills in your own authentic voice. Her words and body language conveyed truth, support, and understanding despite her affect feeling a bit cold and distant. In the next instance of Aimee describing a particularly difficult aspect of the assault, Jean responds by taking a pause and sighing out a long, deep intentional breath. This moment stands out as an example of Jean both caring for herself and modeling to Aimee one way to regulate herself after hearing or saying something heavy. And sure enough, in the next moment, Aimee picks up on this cue and also sighs a big deep breath out, appearing to feel validated and more calm afterwards.
This is a subtle example of how to incorporate into practice the mind-body tools like breathing exercises outlined in module 6 of MiVAN's Trauma Across the Lifespan training. These practices don't always need to be explicitly taught to survivors, sometimes the practice starts with us, and we can naturally model them to the survivors we work with. This practice was also depicted in the Grey's Anatomy episode when Abby first discloses that she was sexually assaulted and becomes increasingly distressed.  The doctors listen and encourage her to take slow deep breaths, in another insightful example of how to use mind-body tools, like deep breathing, to help survivors cope with very normal and valid reactions to trauma. 
Unbelievable (Netflix) Season 1 Episode 2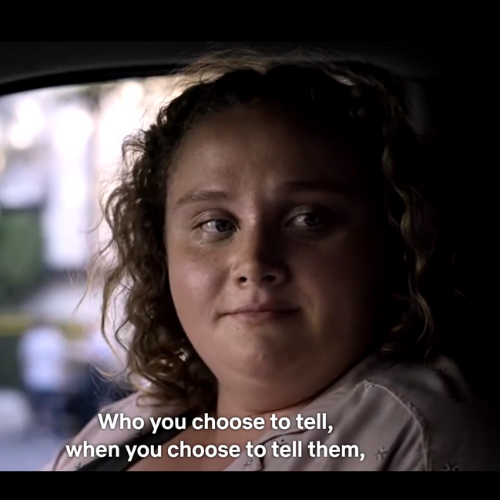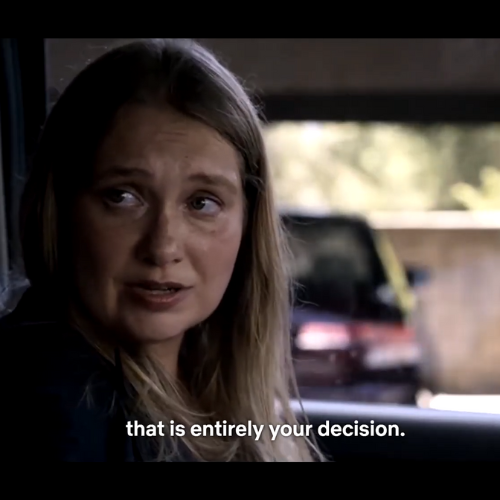 Unbelievable is based on the true story of an 18-year-old sexual assault survivor, Marie, who reports her assault but is not believed by the detectives, lawyers, and police officers she first encounters.
This is in an unfortunately realistic depiction of how survivors can be re-traumatized when systems professionals do not operate in a trauma-informed way. The show then depicts another sexual assault survivor who interacts with detectives who do exhibit empathy and a nuanced understanding of how victims might respond to trauma.
This juxtaposition of a re-traumatizing response with a trauma-informed response to sexual assault highlights the importance of trauma-informed practice. In one of the trauma-informed interactions (clip), Detective Karen Duvall asks the survivor, Amber, "If it's alright with you, I'd like to ask you some questions," and waits for Amber to consent to participating in the process. The detective then notices, "It's a little busy out here, would you be comfortable talking in my car?" providing a secure, private, and safe space and giving Amber a choice in where to talk, exhibiting two of the trauma-informed principles outlined in MiVAN's "Becoming a Trauma-Informed Advocate."
The detective also continually reiterates to Amber, "Who you choose to tell, when you choose to tell them, that is entirely your decision," in a powerful example (clip) of the trauma-informed principle Empowerment, Voice, and Choice outlined in MiVAN's 6 Principles of Trauma-Informed Care poster. 
While these examples feature interactions between survivors and healthcare providers or detectives, the same trauma-informed principles they practice also apply to advocacy work and have been featured in many of MiVAN's trainings available on our website (www.mivan.org). The writers and actors on these shows might not have gotten everything right, but they did do a lot of things well. We hope you will find support for your trauma-informed advocacy by visiting and taking some of the courses available through MiVAN.