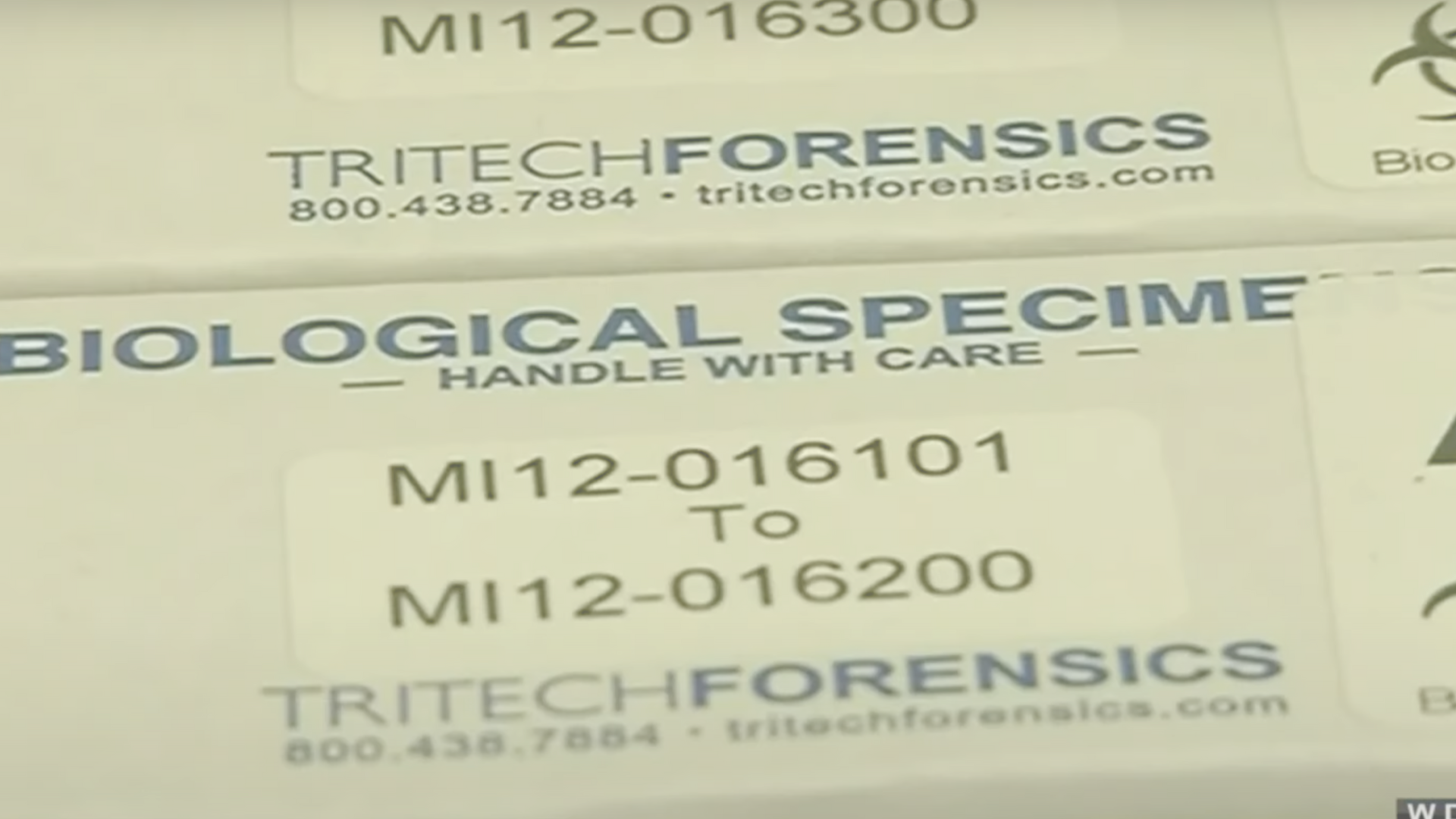 Collaborative Change: Michigan's Involvement Ending The Sexual Assault Kit Stockpile
September 2023
MiVAN Team
You may have heard about the discovery of over 11,000 untested Sexual Assault Kits (SAKs) inside an abandoned warehouse in Detroit. Sexual assault kits, commonly known as rape kits, consist of evidence collected from victims during medical examinations. However, the discovery in Detroit was far from an isolated issue. In 2021, a research study estimated that between 2014-2018, there were 400,000 untested kits across the United States.
Due to the collaborative efforts of representatives from the Division of Victim Services at Michigan Department of Health and Human Services, the Wayne County Prosecutor's office, law enforcement, community-based advocates, and researchers from Michigan State University, the stockpile of untested SAKs has been submitted for forensic evidence testing. As a result, a number of cases in Wayne County have been resolved. 
In the most recent season of Paper to Practice, we focus on the findings from two research articles working with survivors of the Detroit stockpile. The aim of this season is to highlight the significance of engaging multiple stakeholders to foster collaborative change in the criminal legal system while emphasizing the researcher's and advocate's role in contributing to these transformative initiatives. 
Detroit's SAK Stockpile and the 400 Project
Though the phenomenon of untested SAKs is commonly referred to as a backlog, that term is misleading. These kits were stored in a police property storage facility without proper documentation, submission for testing, or scientific examination. Thus, the stockpile was created.  
In 2009, Detroit public officials confirmed the discovery of a stockpile containing 11,341 untested sexual assault kits dating back to 1984. The kits contain biological and trace evidence such as body fluids, saliva, hair, and fingernails, which forensic examiners analyze for DNA. The collection and analysis of such evidence play a pivotal role in solving sexual assault crimes, particularly those committed by serial offenders. 
When the Michigan State Police crime lab learned about Detroit's stockpiled kits, it reached out to the Michigan Domestic and Sexual Violence Prevention and Treatment Board (MDSVPTB) for support. The Board immediately sought funding from the Office on Violence Against Women in the U.S. Department of Justice to conduct a review and research project to test 400 randomly selected kits from the stockpile. This project, commonly referred to as the 400 Project, was staffed by a multi-disciplinary team of attorneys, law enforcement, and victim advocates. The goals? Determine the scope of the problem and the likely outcomes for testing all stockpiled kits, and develop recommendations for others on how to address untested kits in trauma-informed and victim-centered way. Statistical analysis was provided by Steven Pierce, associate director of Michigan State University's Center for Statistical Training and Consulting. 
The initiative was the springboard for the larger Detroit Action Research Project.
Dr. Campbell's Involvement
In 2011, Dr. Campbell was enlisted to spearhead the development of methodologies and indicators for data collection and evaluation within the Detroit Sexual Assault Kit Action Research Project. In this capacity, her academic expertise has been instrumental in tackling one of the most challenging issues faced by law enforcement in Michigan. This project started with an audit and assessment of the sexual assault kit stockpile's magnitude. Subsequently, a year-long phase focused on testing as many kits as possible and implementing four separate research studies to improve the investigation and prosecution of reported sexual assaults.  
Dr. Campbell's extensive portfolio encompasses numerous projects aimed at improving the legal and medical systems available to survivors of sexual assault. Through her unwavering dedication, she has cultivated strong partnerships within the community, collaborating with professionals tirelessly striving to enhance services for victims of violent crimes. 
Law enforcement officials and survivors face numerous challenges when resolving crimes and seeking justice for cases from the past. Dr. Campbell's contributions to the project include presenting accurate, comprehensive, and intelligible information to policymakers and decision-makers. Her evidence-based research adds depth to the conversations surrounding these complex issues. 
Collaborative Efforts
During the exhaustive process of indexing the stockpiled kits, a team was assembled to strategize the next steps. This team included representatives from the Wayne County Prosecutor's Office, Detroit Police, Michigan State Police, MDSVPTB, the Prosecuting Attorneys Association of Michigan, Avalon Healing Center (formerly Wayne County Sexual Assault Forensic Examiners – WCSAFE), and YWCA Interim House. Their collective dialogue laid the foundation for future actions.  
One of the key insights gained from Dr. Campbell's involvement in the Detroit Sexual Assault Kit Action Research Project is the recognition that victim notification is a multidisciplinary endeavor. While law enforcement and prosecutors may primarily view it as conveying information about forensic DNA testing results, the potential reopening of a case, and criminal prosecution, it is essential to acknowledge that for survivors, this process involves reopening a traumatic memory. Our law enforcement colleagues are acutely aware of this aspect, but their primary focus lies on the legal aspects. In this regard, the involvement of advocates becomes crucial. 
"So having the advocates involved, where their sole focus is on survivors' emotional well-being and health, is an appropriate and welcome balance," Campbell said. "[Together] as a team, they are attending to the very complicated legal issues as well to survivors' health and well-being."  
Supporting Survivors & Victim Notification Protocol
The second episode, "Supporting Survivors Through Victim Notification", features Dr. Katie Gregory, a community psychology professor and member of Dr. Campbell's research and evaluation team. In the aftermath of the discovery of thousands of untested kits in Detroit, Dr. Gregory's role as a researcher and community psychologist was to be a liaison with Avalon Healing Center to ensure survivors had a direct line to advocates before, after, and during the notification process and that privacy was maintained at all times. She worked collaboratively with Avalon Healing Center to develop a research project to examine the experiences of survivors. Specifically, survivors who had been notified by the Wayne County Prosecutor's office that their previously untested kits had been tested and their case could face re-investigation and subsequent prosecution.  
Collaboration and Community-based Research
The research team at MSU and staff at Avalon Healing Center worked closely to determine the best approach to take in terms of recruitment (contacting survivors and explaining the study), connecting survivors interested in participating in the study with interviewing staff at MSU, identifying the best locations and modalities for interviewing survivors, and maintaining advocacy support for survivors when needed, all while ensuring the process remained trauma-informed and survivor-centered. Avalon staff provided feedback throughout the entire project from development of the interviews to reviewing the final report.  
Study Details
The final report of "Evaluating a Victim Notification Protocol For Untested Sexual Assault Kits (SAKS): How Do Survivors Define Justice Years After An Assault?" and subsequent journal articles has provided key information about what was learned based on qualitative, in-depth interviews with 32 survivors and 12 advocates. Survivors were asked about their experiences throughout notification and re-engagement with the criminal-legal system.   
Victim Notifications: Protocol vs. Reality
While a suggested Victim Notification Protocol had been developed based on prior work done with the Wayne County Task Force, the reality of victim notification looked different based on a number of factors. The taskforce decided to prioritize notifications for tested kits that had CODIS hits — which identify suspected serial sexual offenders — because those cases were at risk of the expiring statute of limitations. Additionally, the Wayne County Task Force modified the victim notification protocol to have plainclothes law enforcement make first contact with survivors during notification. During the first contact, law enforcement included information about advocacy services at Avalon Healing Center, but the first contact between survivors and advocates during the notification process happened during the first informational meeting that included prosecutors and law enforcement, held at Avalon Healing Center. 
Key Findings – How to Support Survivors During Notification
At the end of episode two, the MiVAN trainers share a list of tips to consider when supporting survivors during the victim notification process. It's important to understand how each value relates to the other; however, we wanted to share a few more examples of what protecting privacy and confidentiality looks like in the advocate-survivor relationship, as well as for advocates working on a collaborative criminal-legal team.  
Connect Survivors to Advocates: Connect survivors to advocacy services at the time of notification and continue to provide advocacy services in any interactions with legal system personnel.

 

Include Advocates in the First Notification: Active outreach victim notifications should be conducted by advocates, either in collaboration with law enforcement personnel or solely by advocates, to ensure survivors' first contact experience focuses on their emotional well-being.

 

Protect Survivors' Privacy: Whether the notification is in person or by phone, protect survivors' privacy and prevent accidental and incidental disclosures to others.

 

Apologize: Law enforcement's first interaction with a survivor should include an apology for the survivor's sexual assault kit not being tested.

 

Ensure Advocates Are Present When Critical Information is Shared: Details about the forensic DNA resting results and information about the identified offender should be provided when an advocate is present to help survivors cope with the range of emotions they may feel.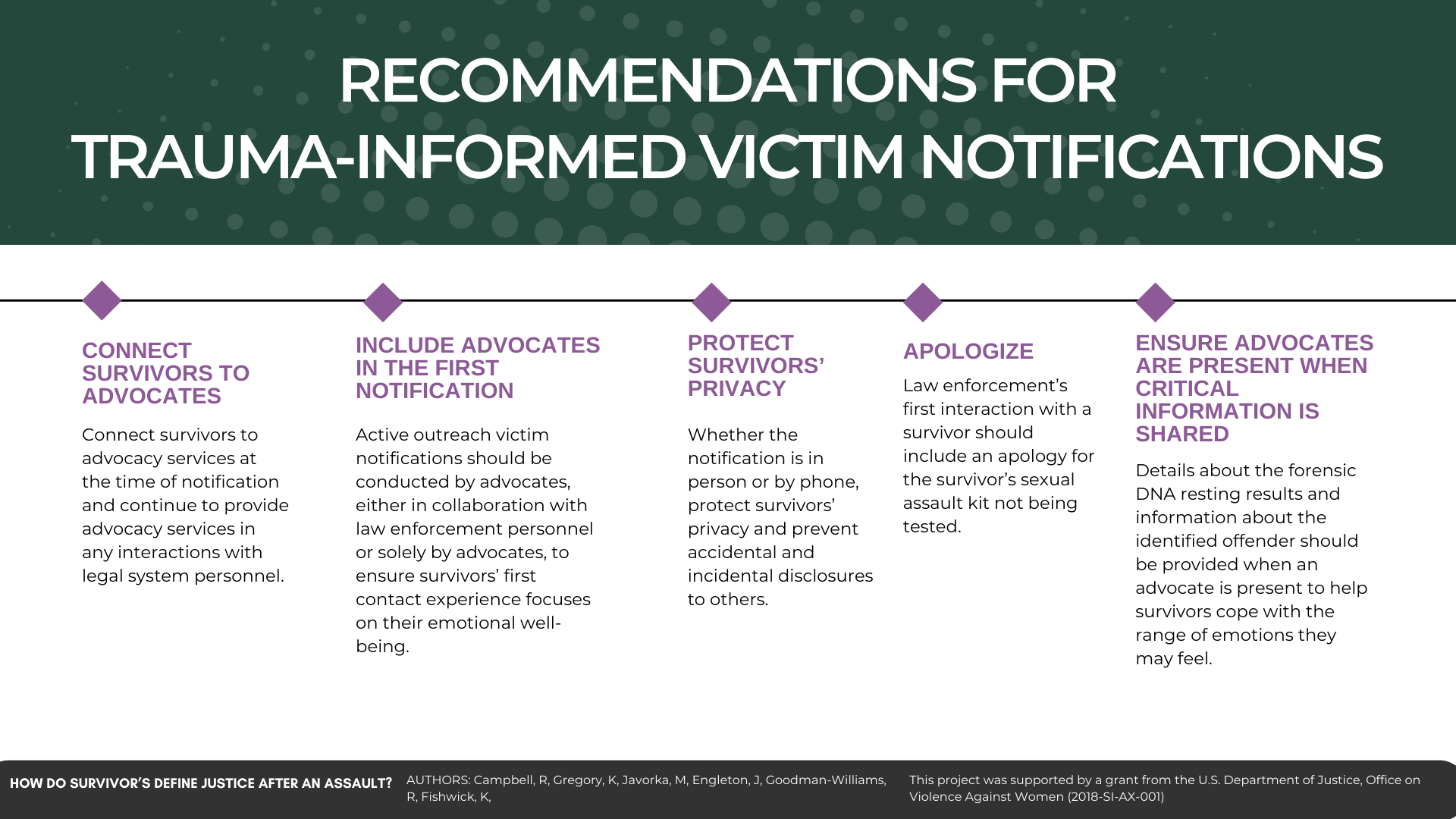 Visit the series resource section to download the Recommendations for Trauma-Informed Victim Notifications infographic with brief descriptions for each value.  You can learn more about how advocates can support survivors throughout the sexual assault kit victim notification process in the second video of this Paper to Practice episode. 
A Note About Advocates and Confidentiality
As seen in episode two, the recommendation that the initial contact with survivors should be done by phone came from the agencies after hearing from survivors of the backlog share that having uniformed law enforcement appear at their door was alarming to their household. 
While contacting survivors by phone is one way to protect confidentiality, it is the tip of the iceberg for advocates. This Paper to Practice series briefly summarizes how to maintain confidentiality within the criminal-legal system, but it is more complicated than the videos portray. For example, did you know the victim advocate cannot tell others in the collaborative about whether or not they spoke with victim or what they discussed with victim, without a VAWA/VOCA/FVPSA compliant signed release? At MiVAN, we recommend you read the NSVRC SART Toolkit and speak with your supervisor on best practice for maintaining confidentiality when working on a collaborative team.